HDbitT is a popular AV over IP industry standard protocol for video transmission and digital connectivity. HDbitT stands for High-Definition Digital bit Transmission Technology and is a relatively new protocol used in residential and commercial Audio/Video over IP delivery applications; such as: home theater, custom installations, digital signage, video conferencing, and collaboration integration.
HDbitT enables high-definition audio/video up to 4K@60Hz transmission via network cables, fiber optics, power lines cables, wireless, and more transmission mediums. It provides stable performance, better image clarity, further transmission distance, and other advantages compared to older protocols.

HDbitT's goal is to revolutionize the AV industry to help manufacturers, like gofanco, to create value-added products and deliver convenience to all users. With this idea in mind, it has created multiple benefits to the end user, including:
- Long Distance: at least 328 feet signal transmission at almost zero latency, depending on the transmission medium (gofanco HDbitT products run up 395 feet)
- Unified Standard: all HDbitT products are fully compatible with HDMI and support all of its key features
- Simple Integration: easily meet the need of end-to-end Pro AV signal conversion, transmission, and display
- Multi-Interface Support: includes throughput video including UTP/STP category cables, coaxial, fiber optic, wireless, powerline cables, and more
- Pass-Through Over Switch: supports distribution over LAN router or network switch, to extend and split AV signals
- Occupies Less Bandwidth: occupies less bandwidth without any affected internet
- Plug and Play: intelligent and automatic adjustments for easy integration without configuration
- Cost-Effective: compatible with existing network systems, delivered by multiple mediums for ultimate versatility
- Flexible Connections: delivered AV to existing network, it supports both point-to-point and multipoint-to-multipoint transmission, with cascading connection and daisy chain connections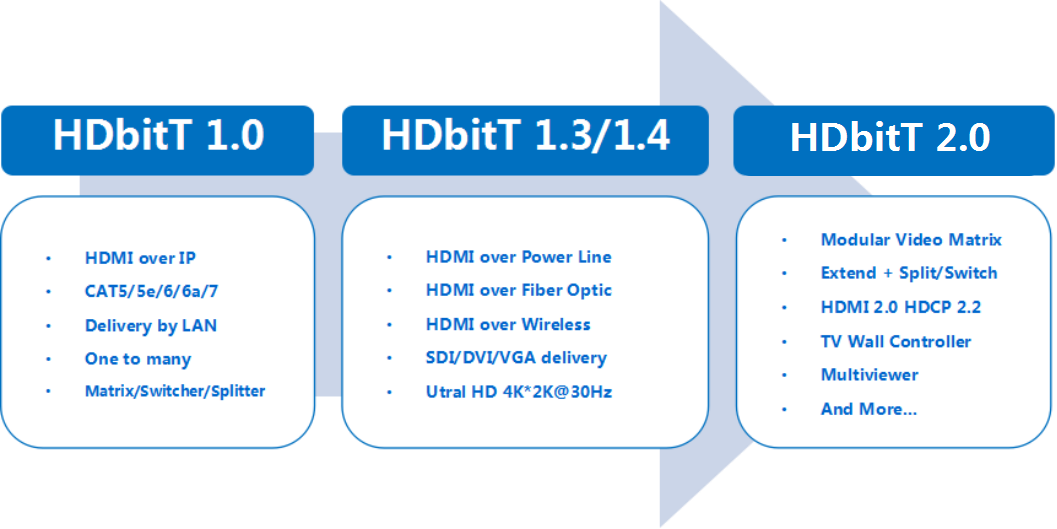 Gofanco offers a complete HDbitT product line for HDMI transmission.
HDbitT HDMI Extender Comparison Table (1-to-1, 1-to-Many, Many-to-Many)
Wired: HDbitTExt, HDbitTPRO, HDbitT4K, HDbitT4K22, HDExtIP, HDExtIP4K, PRO-HDExtIP-TX / PRO-HDExtIP-RX. HDbitT4P, HDbitT8P
Wireless: HDwirelessMulti
Reference: HDbitT.org