In this short post, you will learn what Power Over Ethernet (PoE) and Power Over Cable (PoC) are and how they can benefit your AV set up, whether it be security cameras or outdoor TVs.
More and more AV installers and residential users are turning to PoE and PoC equipment to provide power to remote areas where power outlets aren't available and running long power cords is inconvenient.
PoE and PoC are both based on the same principle of simultaneously providing both data and power over the same cable from one device to another.
What is Power Over Ethernet?
Power over Ethernet, commonly known as PoE, is a technology used to pass electrical power long with data (video and audio from HDMI or other) over CAT 5e/6/6a/7 Ethernet cabling from one device to another. It is standardized to adhere to a specific voltage range of 37 and 57 volts to ensure a connected system receives a compatible power supply.
Regarding gofanco products, it is incorporated in all HDBaseT HDMI extenders, to provide power from the transmitter to the receiver(s). Only one power adapter is plugged into the transmitter without the need for another on the receiver(s).
In other cases, PoE is used to power CCTV cameras, wireless access points, or IP speakers/phones, as they would normally require both a data cable and external power supply.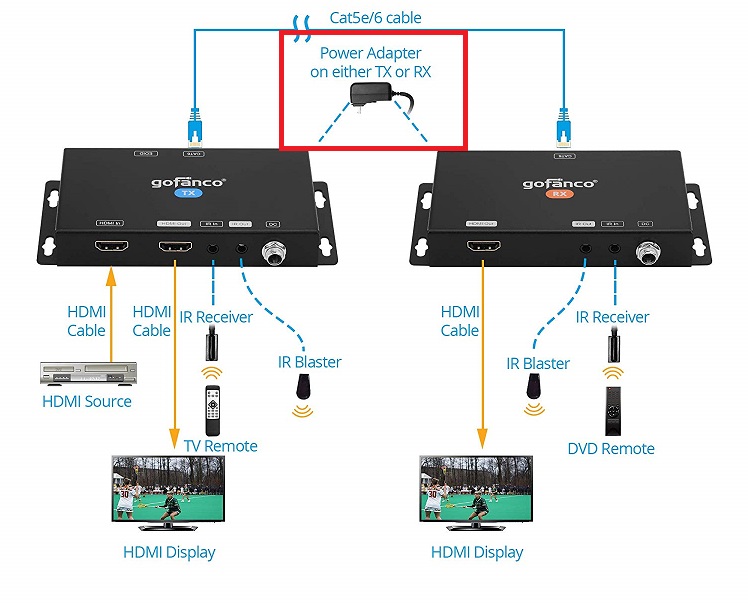 What is Power Over Cable?
Power over cable (or Power over coaxial). Commonly known as PoC, is similar non-standardized technology that accomplishes the same goal of simultaneous power and data over one cable. The voltage supply can be set to meet the requirement of the connected system (lower or higher than voltage range of PoE). Also, PoC will apply power to the line directly without detecting a device at the remote/receiver end.
Here is a good video on the difference between the two.
Benefits of PoE
Convenience and Time/Money Saving – Do not need electrical cabling installed, eliminating the need for an electrician to fit network cables. Instead, simply use desired location for the device, install and add to the network via an Ethernet connection, saving time and installation costs.
Flexibility - Without needing to next to an electrical outlet, devices such as CCTV or HDMI receiver points can be placed wherever they are needed most, as well as easily re-positioned anytime if required.
Safety - Power over Ethernet usually uses 48V DC, which is classified as a safe voltage by the UL Standards. PoE also has built-in safety features, such as if there is an interruption in the connection, the PSE automatically stops sending power, and starts a handshaking process before sending power again. Meaning if there is damage to a cable, for example fraying, the power is stopped.
Reliability - PoE power comes from a central and compatible source, rather than a collection of distributed wall adapters. It can be backed-up by an uninterruptible power supply or controlled to easily disable or reset devices.
Scalability - Power available on the network, meaning installation and distribution of network connections is simple and effective.
All gofanco's HDBaseT HDMI Extenders are incorporated with PoE.
Checkout the full product line HERE!