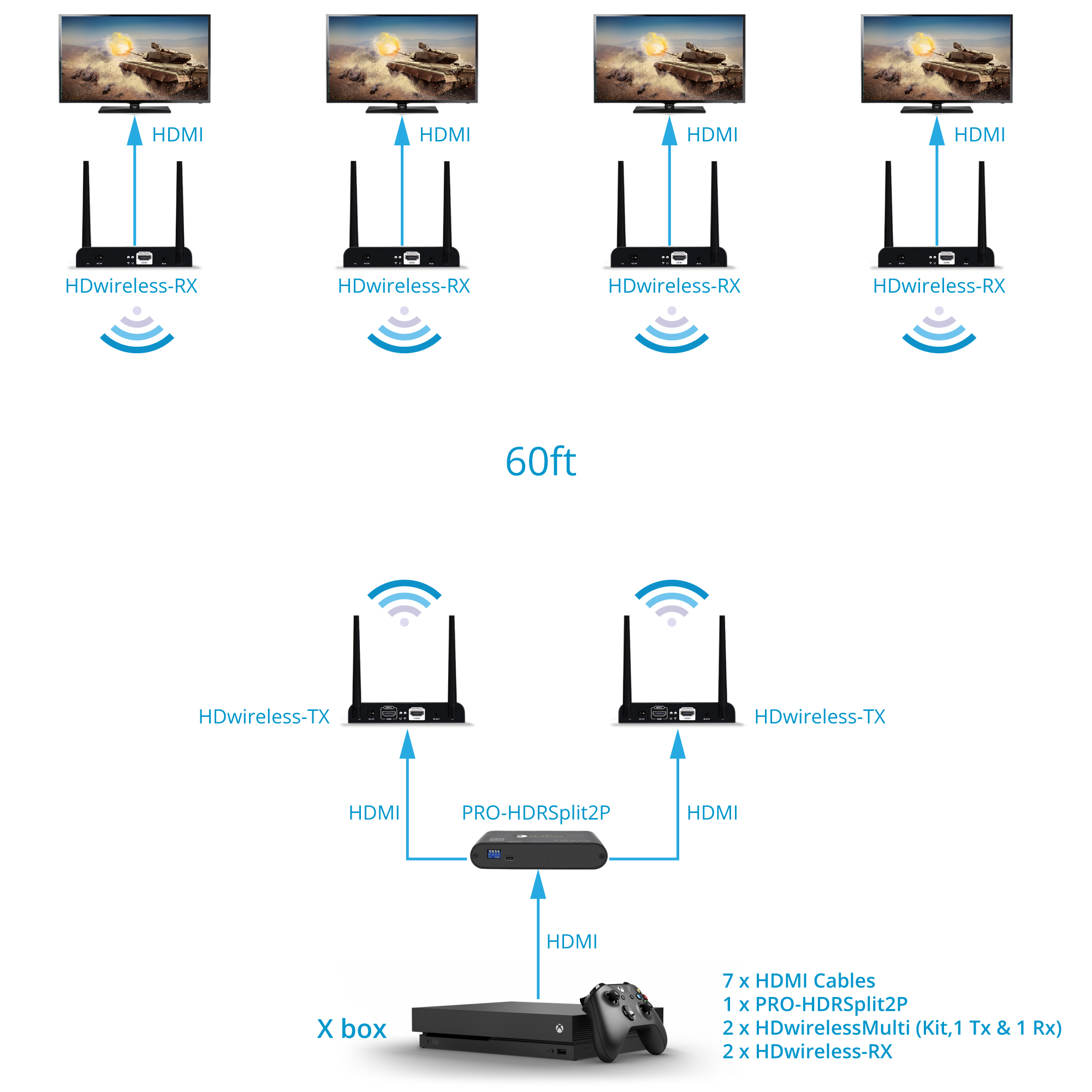 Would you like to wirelessly extend an HDMI signal to 4 distant TVs simultaneously?
There is a demand for a 1x4 wireless HDMI extender splitter configuration, but you will have difficulties finding a full kit to serve this purpose.
This resource is intended to show you how a configuration of gofanco devices can allow you to achieve just that.
So, let's dive right in.
What you will need:
1 x PRO-HDRsplit2P

2 x HDwirelessMulti

2 x HDwireless-RX

7 x HDMI cables
HDwirelessMulti is the wireless HDMI extender kit used to create a wireless 1x4 configuration because it has the capability to send a signal to more than one receiver and its frequency can be set to multiple channels. It comes with one transmitter and one receiver.
Typically, this kit is used for either a 1-to-1 connection, a 1-to-2 connection or a 2-to-2 connection. Additional transmitters and receivers can be purchased separately.
PRO-HDRsplit2P is an HDMI splitter we recommend because it is very high quality, but just about any splitter can work. (Splitter2P is also recommended)
What and how we tested (Plus Results):
We used an Xbox One X as our source and a mix of ASUS monitors as our displays, with a mix of HDMI cables.
We put both transmitters and the source in one room, with two receivers and their displays across the same room. The other two receivers and their displays were outside the room, about 45-50 feet away. We set one transmitter and two receivers to channel 5 and one transmitter and two receivers to channel 7. (Front panel button or remote used to change channel)
We played a video game and Amazon Prime Video, both working perfectly.
Next, we pulled two of the receivers and their displays further away (those in the first room), to about 100 feet away from the transmitters. Now we have two receivers about 45-50 feet away and two receivers about 100 feet away.
There were mixed results with this. The video game played smoothly at first then started to get choppy, but the Amazon Prime Video played great.
We unplugged one of the receivers in the furthest room and the video game started to play smoothly again. We chalk this up to not enough signal strength and data transmission strength to be able to play resource intensive content.
Conclusion:
We recommend keeping all 4 receivers within a 50-60-foot radius of the transmitters. There could be some wiggle room here, but its something that needs to be tested in your environment.
The type of content being played from the source MATTERS when it comes to effective distance. We couldn't test all sources or contents, but it is safe to say more data intensive content; such as video games, will result in a lack of effective distance.
If one receiver is removed then the signal strength will amplify and effective distance will increase.
In all, this AV configuration is a great way to extend your HDMI signal wirelessly to four distant displays. Just be careful in evaluating the distance from the transmitters to the receivers and the type of content being played.
Make sure to share this resource with friends and other AV enthusiasts. Thanks for reading and hope this helps!
If you have any questions, please contact us at support@gofanco.com