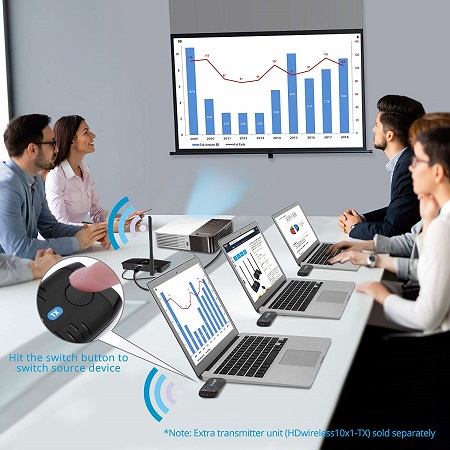 Huddle or small meeting rooms where 2-10 employees meet to discuss projects, share reports, or brainstorm, move more efficiently with a content sharing solution. It should cater to a variety of presenters and media to operate simply and smoothly, so that a highly collaborative environment is created.
These meetings involve displaying presentations or other content on a big screen like a projector or HDTV, from multiple laptops. It can be messy and time consuming to plug and unplug HDMI cables to connect different sources and is an inconvenience to set up your laptop right next to the big screen.
Wireless HDMI
Wireless HDMI is a simple and cost-effective way to modernize your meeting room without having to deal with expensive or complicated installations. Wirelessly pass video and audio from a laptop or other HDMI source to your TV or projector by connecting a transmitter to the laptop and the receiver to the TV or projector.
Wireless HDMI allows your team to keep their laptops on the table and display mounted on the wall without any annoying cables in between them. This not only offer greater freedom in the meeting room for presenters, but it also keeps everything looking clean and professional.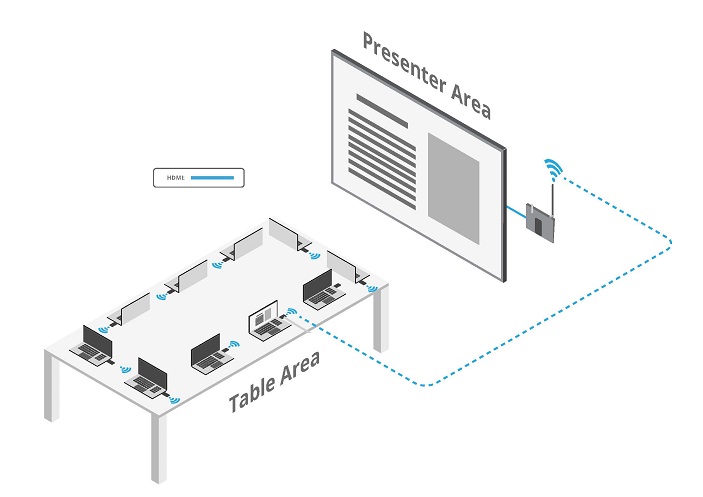 10x1 Wireless HDMI Extender & Switch Kit 1080p (66 Ft.)
gofanco offers a wireless HDMI solution ideal for meeting rooms, allowing your team to partake in a collaborative experience with seamless source switching. Content sharing and collaborations doesn't get easier than this. Eliminate the disruption of having to connect and disconnect each time information needs to be presented from different laptops. Quick screen share with just a single click.
With this kit, up to 10 transmitting unit can be connected at one time to switch between each user's laptop or other source device. It makes BYOD situations much more practical and increases the productivity of meetings.
How It Works
Connect the receiver to your TV or projector.
Connect one transmitter dongle for each laptop involved (up to 10).
Press button on transmitter to transmit screen of laptop to TV or projector.
No drivers to install - simply plug and play.
Product Demonstration