Wireless HDMI is taking home theater systems by storm!
Homeowners are looking to modernize their living spaces with flat panel TV's mounted on the wall and cable boxes hidden away. Some may call this a minimalistic approach to home décor.
Modern technology is making this feat a lot easier and we are here to show you how.
Wireless HDMI solutions aren't new, but they are more reliable and accessible than ever before.
Previously you couldn't trust that a wireless HDMI signal would be able to hold up in most environments. Signal drops, bad quality picture, and latency made it impossible for wireless HDMI to become a trend. In addition, these systems were expensive and there weren't many options to choose from.
Now the tides have turned! Wireless HDMI solutions are now readily available at relatively affordable prices to give users the home theater system and home décor they imagined.
Wireless HDMI extender kits generally come with a transmitter and receiver. Simply connect your cable box or PC to the wireless transmitter, then connect your HDTV or monitor to the wireless receiver.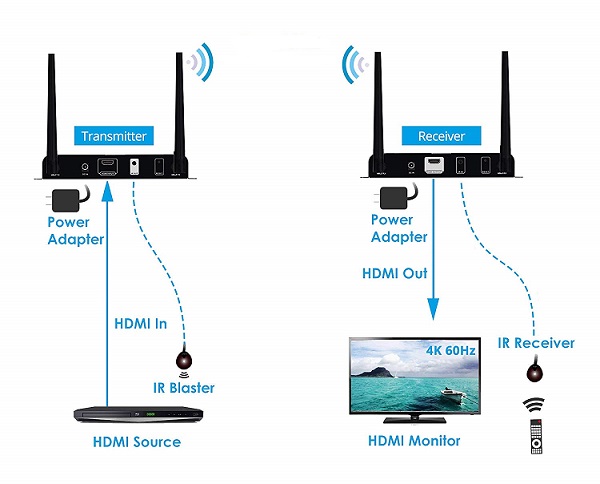 That's it! Easy wireless HDMI signal without unsightly HDMI cables hanging about. Getting rid of cable clutter is only one good reason to use a wireless HDMI extender kit though. There are many more…
You can make your TV look like a floating picture with a wall mount design. Keep your media boxes out of sight in a clean organized fashion without having to worry about them being next to the TV.
In fact, your entertainment devices could be in a completely different room while you have the flexibility to move your TV or monitor around to the kitchen, patio, bathroom, den, etc.
In many cases, the source is unable to be in a reasonable distance to the display to use an HDMI cable and passing AV cables through walls or the ceiling isn't feasible or is just plain messy. Not only does home renovation cost money and time, but it is hard! A wireless solution may provide an unmatched convenience, even at the expense of some slight downfalls.
And now I would like to hear from you readers.
Are there any other ways in which you use Wireless HDMI in your home theater system?
Are you thinking about implementing a wireless HDMI extender kit in your home?
Don't know the correct solution for your home?
Please feel free to comment!