There has been a recent trend in AV, involving the integration of built-in downscalers to equipment such as splitters, switches, and matrixes. With little documentation on the topic, this post aims to give some background and explain its importance. We will quickly review what downscaling is and express three reasons why AV installers, enthusiasts, streamers, and the typical user should be excited about it.
Let's dive right in.

What is Downscaling?
Downscaling allows for content from one source to be played on displays in their native resolution. For example, if your video source outputs 4K (2160p) and you have one 1080p display and one 4K display, then they will both be able to play in their respective resolutions. Without integrated downscaling equipment or a downscaler, the lower resolution (1080p) would automatically be output on both screens.
Downscalers would typically be used in conjunction with an HDMI splitter or matrix to compensate for the lack of this integrated feature. But not anymore! Auto downscalers are now built into HDMI splitters and other AV equipment to kill two birds with one stone.
Mixed Displays (New and Old)
You need to split a video source onto multiple screens to service a large crowd. You find a collection of TVs, projectors, and monitors. Some new and some old. But one of them can only output up to 1080p resolution, while the rest can output up to 4K… That means they will all need to compensate for the legacy screen and use the identical resolution of 1080p. So much for a better 4K showing. ¯\_(ツ)_/¯
With an auto downscaling splitter, it will solve this problem by automatically detecting which display supports the lowest resolution and downscaling only that signal, while sending the original 4K signal to the rest of the displays.
Your result? Much better viewing experience for your audience and money saved by avoiding the purchase of a downscaler (HDMI scaler) for that specific signal.
Twitch Streamer's Delight
Gamers who stream to an audience or record gameplay need to split video from their console onto their playing screen and onto their streaming/recording screen.
Unfortunately, without an ultra-expensive 4K capture card, these gamers can only play the game in 1080p because the same rule applies from above.
Gameplay is captured in 1080p on a streaming/recording screen using a much less expensive and popular game capture device, such as the Elgato HD60. Meaning the playing screen must have the identical 1080p resolution (without downscaling).
With an auto downscaling splitter, the gamer can ultimately record/stream in 1080p while actually playing in 4K.
Money, Money, Money!
Integrated downscaling can save you so much money! Especially if you wish to downscale to a lower resolution on multiple screens. Each screen you want to downscale the signal for will cost at least $60 (HDMI scaler on Amazon).
Say you have an 8-port HDMI splitter with auto downscaling and 8 displays. 4 of which are 1080p and 4 of which are 4K. You can automatically scale the correct signal to each display depending on its capabilities.
With a normal splitter, you would need an HDMI scaler on 4 of the outputs. It would cost around $240 plus the 8-port HDMI splitter to accomplish this AV solution OR you could spend around $130 on an 8-port auto downscaling HDMI splitter from gofanco.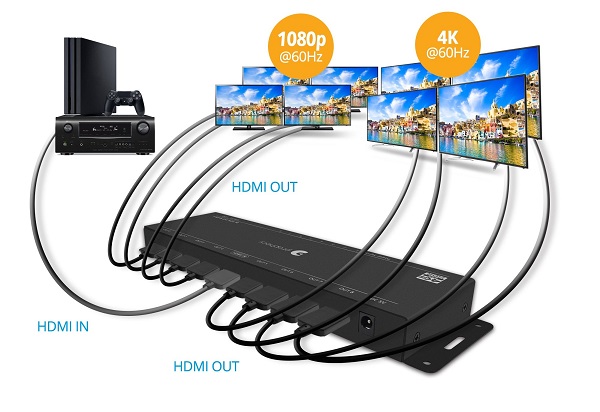 gofanco Equipment with Downscaling
Splitters
Matrix
Extender Splitters
Prophecy 1x2 HDBaseT HDMI Extender Splitter 4K, HDR - PRO-HDBaseT2P
Prophecy 1x4 HDBaseT HDMI Extender Splitter 4K, HDR - PRO-HDBaseT4P