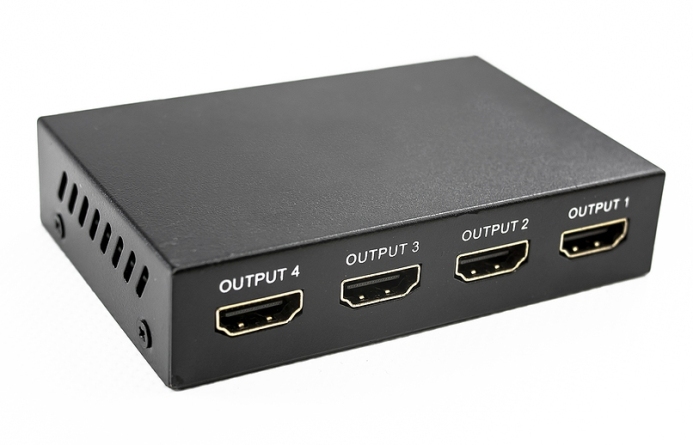 It's game day! The drinks are flowing, the grill is smoking, and the customers keep piling in to grab a seat and watch their favorite teams do battle on the big screens. But if your TV displays aren't sufficiently connected and broadcasting high-resolution video feeds, you can rest assured your guests will be headed elsewhere to fulfill their game day fix!
That's why it's imperative for businesses to understand what types of AV equipment will ensure their TV display setup will perform its best when they need it the most. And when it comes to distributing HDMI video and audio from a single source to multiple HDMI displays simultaneously, an HDMI splitter is your go-to source for picture-perfect display without any signal degradation.
HDMI splitters are an essential piece of audio-visual equipment for any business that needs to connect multiple HDMI displays together. HDMI splitters make it possible to display different content on different TV screens from one source, coming in handy for any restaurants or bars that need multiple TVs displaying the same or different content at once in order to keep their customers entertained.
But setting up your HDMI splitter requires more than just plugging everything in – AV technicians must plan carefully and have the right equipment to ensure a successful installation.
In this step-by-step guide, we will discuss how you can use HDMI splitters, HDMI adapters, HDMI switches, cables and other audio-visual solutions to set up multiple television displays while only using one source.
Step 1: Choose Your HDMI Splitter Wisely
First things first, you'll need to decide which specific type of HDMI splitter you need. HDMI splitters come in a variety of sizes and configurations, depending on the number of HDMI displays you want to connect together.
The most popular HDMI splitters allow up to eight HDMI displays from one source, so you'll need to know beforehand exactly how many TV displays you're trying to accommodate.
Step 2: Round Up Your HDMI Accessories
Next, you'll need to acquire all the necessary HDMI accessories to successfully connect all your monitor displays. HDMI adapters, HDMI switches, HDMI cables; these are all essential pieces of AV equipment when it comes to fully connecting multiple TV displays with the same HDMI source.
For example, if you're using an HDMI splitter that has two outputs for two screens but one input for the source device, then you will need some HDMI cables and a HDMI switch to join them all together.
Make sure the length of these cables is sufficient to stretch across each display screen location.
Step 3: Ensure Your Settings Are Correct
At this point in your process, it's important to remember that setting up your HDMI splitter is only half of the job done. For optimal connectivity, make sure that your HDMI source and device settings are correct, too.
If you're connecting multiple TVs with HDMI cables and trying to display different content on each one, then you will need to adjust the settings within the HDMI source and each HDMI device accordingly.
Step 4: Test And Troubleshoot Your HDMI Displays
Once all of this equipment is connected correctly and all HDMI devices have been configured properly, your setup should be complete!
Just be sure to test out your TV displays to double check that your HDMI splitter is appropriately distributing crystal clear picture and audio quality, and review your troubleshooting process in the event that you do wind up experiencing any signal degradation further down the line.
GoFanco: Your One-Stop-Shop for Essential AV Equipment!
For any businesses looking for cost-effective AV solutions and top-quality AV equipment, GoFanco has you covered! New members can take advantage of all our promotional and warranty offers while browsing our selection of industry-leading AV equipment and gear.
Contact us today to learn more about our reliable audio visual and connectivity solutions!