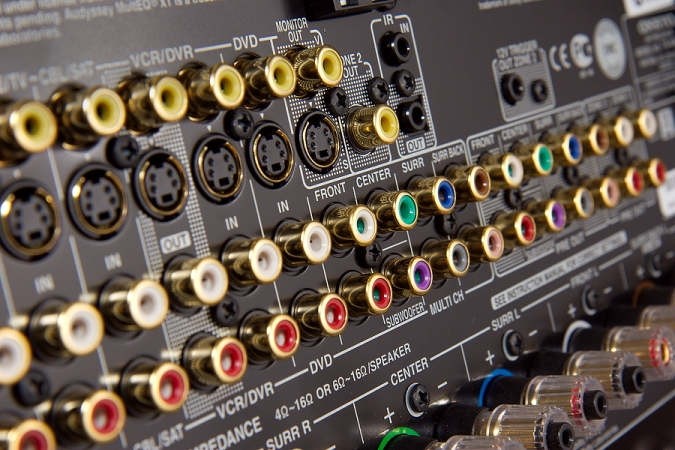 It only makes sense to choose the best if you're preparing to invest in a new commercial AV system for your dining establishment or bar. While there are certainly a great deal of quality audio products out there, how can you possibly sift through them all and discover which ones make sense for your business?

Fortunately, your trusted audio-visual specialists at GoFanco have actually supplied some info on what equipment and accessories your commercial AV system should possess, as well as providing some personal equipment recommendations below.
Check out our guide for assembling the best commercial audio system to help your restaurant stand out amidst the competition.
High Quality Audio Formats
Audio is arguably the most important aspect of your restaurant's AV system, especially when assessing the ambiance and energy of your establishment. Is your restaurant a sports bar that's constantly packed on gameday? Or does your restaurant project more of a classy climate, where a subtle soundtrack scores the evening?
Defining what type of audio setting(s) you want to cater to is your first step toward finding the best AV system for your restaurant. For starters, premium audio needs many different components to accommodate your environment, such as ceiling installation, surface area mounted speakers, distributed amplifiers, receivers, etc.
Depending on what kind of sound format (Dolby, DTS, PCM, Stereo, etc.) you're using, you'll also need to find an audio extender that will support your audio signal strength and performance.
From there, there are three primary forms of audio equipment you'll need to sort out to install the best audio setup that fits your restaurant's acoustic needs.
Sound Source
You need to choose which audio source you want to utilize for your AV setup. This can include anything from a laptop, smartphone, CD player, vinyl player, etc.
Keep in mind that whatever your sound source is, you'll need to find a corresponding audio extractor to effectively transmit your audio signal.
Sound Mixer
Once you've established your sound source, you'll want to install a sound mixer board that can adequately balance out all aspects of your acoustics. You'll want a mixer setup that will adjust the volume in every location of your restaurant, from the bar, dining room, patio, entrance, parking lot, etc.
You can also find plenty of mobile apps for your smartphone or tablet that can effectively mix your restaurant's audio.
Sound Speakers
Your sound speakers are where you can start to get more picky on what will best accommodate your restaurant's acoustic needs. Speakers vary in price range, but it's more about the placement of the speakers you choose – as opposed to how big or expensive they are – that will truly determine equal and effective distribution of your sound.
High Performance Audio Accessories
Once you start assembling all the primary components of your restaurant's audio system, you'll need to add the finishing touches with high performance audio system accessories that will evenly distribute sound to every channel and speaker you have set up.

Audio extractors will effectively separate digital and analog audio from your HDMI signal, without losing any quality from your other active audio channels.
For the highest quality digital audio formats, investing in an audio embedder will convert HDMI signals into SDI pure digital format in 1080p, so the quality of your sound will match the picture quality of any TVs or video walls you have installed.
Enhance Your Restaurant's Audio With GoFanco
Audio quality is an AV component that should never be overlooked. At GoFanco, we help AV installers equip themselves with top-of-the-line audio equipment and accessories that will take your AV setup to the next level.
Need some help determining which audio accessories will work best for your restaurant? Contact GoFanco today to schedule a consultation with one of our AV specialists!