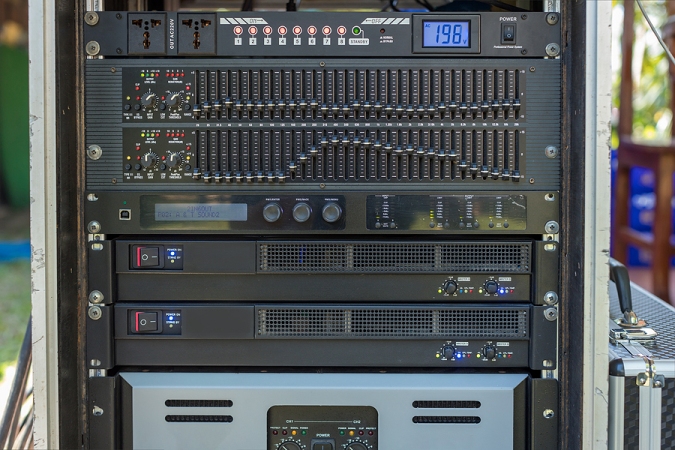 Effective AV equipment is essential to create a positive and profound impact on church members through worship, energy, and ambiance. Having the right audio system can help make the perfect environment for spiritual growth by allowing everyone in attendance to hear music, sermons, and other vital messages with crystal clear quality.
If you're a church leader seeking out audio solutions to best fit your needs, remember that skimping on AV technology will only hold back your potential in the long run and lessen the overall attendee experience.
With the right AV system in place, your church can have everything it needs to reach its full potential and offer your congregation a memorable service each week. As you take the time to evaluate which AV solutions are best for you, several factors must be considered.
Here are some useful tips from our AV experts on choosing the best audio system for your church!
Portable or Permanent Sound System?
First and foremost, every church needs to answer the big question of whether they need a portable or permanent sound system. A temporary or "mobile" AV solution may be most appropriate for those with a limited budget who don't need long-term sound reinforcement capabilities.

On the other hand, if a church plans to use AV equipment regularly and has multiple people using the same setup frequently, then investing in a permanent AV system is the better option.
Any church that frequently hosts other events aside from church services should also consider a more permanent setup.
Venue Space & Shape
The room's shape and space should also be considered when selecting audio equipment. Some AV solutions are designed specifically for smaller rooms, while others are engineered to fill a large auditorium with sound.

It's important to find AV gear that can accommodate any size of area, whether it's a single-room facility or multiple rooms connected by audio extenders.
Always keep in mind that the bigger the space, the more of an investment you'll to have to make.
Go Wireless?
Wireless AV equipment may also provide flexibility depending on a church's needs. Wireless audio equipment allows users to move around easily without having to worry about wires and cables getting in their way, making it an ideal choice for churches that host events often and need to change up the arrangement of AV equipment frequently.

However, installing wireless audio technology into your sound system setup will require an audio technician who can appropriately manage and adjust sound settings.
Assess Your Budget
Naturally, budget is also a significant factor when selecting AV gear for a church. AV solutions range in price from a few hundred dollars to tens of thousands, so selecting the audio system that fits within the church's allocated budget is important.
Always be sure to invest in audio equipment that's backed by an official warranty policy.
Simplistic or State-of-the-Art?
Finally, churches should ensure they have someone capable of running and managing the AV soundboard on an ongoing basis. This will help ensure setup and takedown each week goes smoothly and provide necessary support and oversight that all AV components function properly during services or events.

If you don't plan on having or hiring a sound technician, it's probably not a good idea to invest in a lavish, expensive sound system.
Let GoFanco Equip Your Church Sound System!
All in all, having innovative AV equipment offers many benefits for churches of all sizes and types, helping to support an atmosphere for powerful and effective worship.
With the right AV system in place, churches can enhance their members' experiences and reach their full auditory potential.
At GoFanco, we have the knowledge and resources to provide your place of worship with all your AV equipment needs. Contact us today to learn more about our exciting audio-visual products and services!