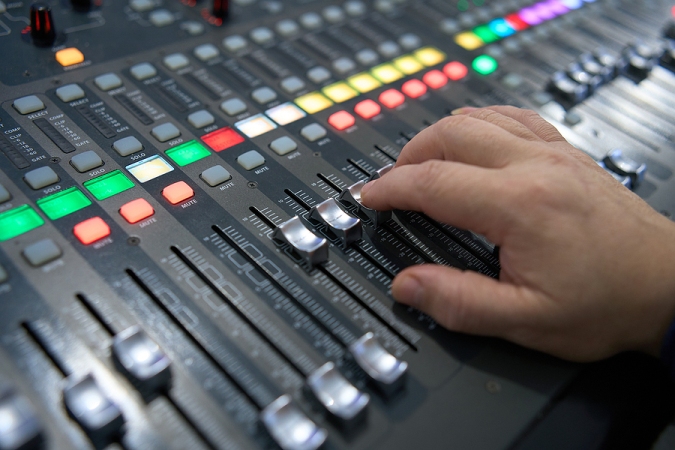 As the esports industry continues to rapidly evolve and progress, there's an apparent need for innovative AV equipment and solutions to grow with it. In 2022, the global esports market was valued at just over 1.38 billion US dollars and forecasted to grow to 1.87 billion by 2025 – when there are expected to be over 640 million viewers of esports worldwide.
To better accommodate the growing streaming and spectator needs, venues and stadiums that host esports tournaments must explore new technology to appease the gaming community. Skilled audio visual providers like GoFanco are crucial to creating more immersive experiences with advanced AV solutions. 
As a professional AV equipment provider serving a wide variety of industries, GoFanco has decades of experience in computer products and audio visual solutions. Our team of seasoned engineers and product specialists would love to collaborate with you to enhance your esports experience!
From places of worship to at-home entertainment, GoFanco offers a wide range of video wall products that are easy to set up and fit the AV needs of your working or living environment. We've taken strides in recent years to help venues and arenas get equipped with innovative products engineered to better manage on-screen content while showcasing crisp, high-definition images and videos. 
Here's a more in-depth look at how we combine cutting edge visuals across a variety of screens with premium sound quality and design. 
Identifying the AV Needs of Esports Venues 
For starters, the most pressing need of esports venues when it comes to audio visual technology is providing players and spectators with multiple crystal-clear visual displays. They all must come together to project one image, video, source, etc. 
Video walls remain at the forefront of AV equipment, serving as one of the most important pieces of AV technology for larger venues. They allow esports venues to display visuals on a large scale, combining multiple screens into one big screen that can be split or combined as needed. 
With a powerful video wall processor, appropriate HDMI cables, and other AV components, it's easy to create custom visual settings for different sizes and shapes of output displays. 
A video wall also provides flexibility when it comes to image synchronization and multi-level cascading capabilities, allowing images to be easily resized, positioned, and zoomed with each output.
Custom Video Wall Solutions for Esports Venues 
Esports are no longer just a hobby; They've become legitimate, professional sports that cater to millions of fans and viewers around the world. That's why having the right video wall products matters. The right equipment for your facility ensures that both gamers and viewers get optimal visuals and sound quality during matches. 
First, find the right video wall processor for your esports venue by answering a few simple AV-related questions to better assess your broadcasting needs. 
For example: 
How many HDMI outputs do you have and need? 
Do you want your video wall processor to be controlled by USB, push button, Ethernet, IR remote control, or cloud control?
Do you need to provide applications in other departments, such as digital signage, broadcasting, education, surveillance systems, or other visual effects?
What are your supported resolution needs (input and output)? 
An industry-leading product in its field, the Prophecy 4K 2x2 Video Wall Processor gives esports venues the power to better manage on-screen content, while making any necessary, on-the-fly configurations with ease. 
Depending on how many screens or displays you need to accommodate, we recommend investing in any of the following video wall processors: 
All of these examples of video wall technology are powerful, cost effective products that deliver real time data to accommodate multiple flat panel displays or projectors. 
And the best part of all of these video wall products? They're all backed with a 1-year limited warranty and 24/7 tech support, courtesy of GoFanco's AV technology team.
Your esports venue can immediately resolve any audio or visual problems you may be experiencing by connecting with our experts today!
Innovative AV Equipment for Esports Venues & Stadiums 
By investing in the right AV equipment, esports venues can create more supportive and engaging environments for gamers, viewers, and sponsors alike. Video walls are just one of the essential AV equipment pieces that you need to ensure a successful esports event.  
GoFanco offers top-of-the-line AV equipment to esports venues looking to provide the best experience for all attendees and viewers. Our experienced technicians are ready to help make your next esports event a total success! 
For any AV requirements or questions you may have, contact us today.