4x1 HDMI Quad-Viewer and Seamless Switcher (PRO-QuadView)
4x1 QUAD-VIEWER – Simultaneously view four video sources on one big display in real time. 5 display modes: One-View, Dual-View (left & right), Quad-View, Quad-View Cycled, Quad-View H
SEAMLESS SWTCHING -Utilize seamless switch technology to switch between sources without signal loss or delay. Supports audio extraction to Stereo audio from selected HDMI input (audio switching)
SUPPORTED RESOLUTIONS – Input: 480i/480p/576i/576p/720p/1080i/1080p || Output: 720p @60Hz & 1080p @60Hz. HDCP 1.4 compliant
MULTI-CONTROL OPTIONS – 1) Push buttons, 2) IR remote (15 keys), 3) software control via micro-USB. Firmware upgradable to support new features and technological advancements
MADE IN TAIWAN & HIGH QUALITY COMPONENTS – FCC, CE & RoHS compliant. Metal enclosure with ESD protection to prevent malfunction or breakdown. Our products are backed with a 1-year limited warranty and experienced tech support team in Silicon Valley. Contact us at "www.gofanco.com/contacts" if you have any questions or concerns 
Multiple Screen Configurations
Take control of your display screen by seamlessly switching between 5 different viewing modes!
One-View (Full-Screen)
Dual-View (Split Screen)
Quad-View (Equal Split)
Quad-View (1 Big & 3 Small)
Quad-View (2 Big & 2 Small)
Easily cycle between channels in Quad-View cycled mode to determine the best configuration and enhance your viewing experience, frustration-free.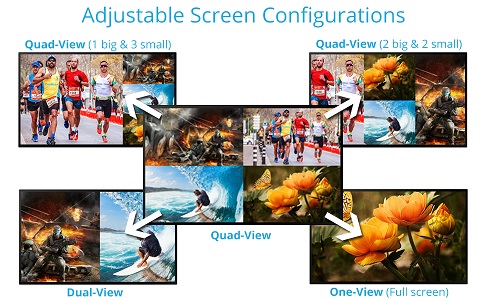 Versaile Viewing Experience
The Quad-Viewer includes 4 HDMI input ports, 1 HDMI output port, and one 3.5mm audio jack to connect external speakers
Simply connect your HDMI compatible devices and customize your viewing options with output displays supporting 1080p @ 60Hz and 720p @ 60Hz
Toggle between audio sources with the push of a button
Firmware upgradable to support new features and technological advancements
Increase the Value of your Display
Picture-in-picture (PIP) technology allows you to share four different images from four sources on the same display, eliminating the need for multiple displays and saving you money.
Create a more efficient viewing experience in several applications, such as security monitoring, conference room sharing, and digital signage. Easily switch to a screen for interest for a full picture.
Seamless Switching
Utilize seamless switch technology to switch between sources without signal loss or delay. Smooth screen transitions delivers consistent performance and reliability so you never miss a moment.
Features & Specifications
- 4x HDMI inputs and 1x HDMI output
- Input resolution: 480i/480p/576i/576p/720p/1080i/1080p
- Output resolution: 720p @60Hz & 1080p @60Hz
- HDCP 1.4 compliant
- Video bandwidth: 6.75Gbps
- 5 Display Modes: One-View, Dual-View (left & right), Quad View, Quad-View Cycled, Quad-View H
- Supports seamless switching in One-View Mode
- Supports audio extraction via stereo audio from selected HDMI input
- Supports audio switch function
- Supports IR remote, software and push button control
- Firmware upgradable to support new features and technological advancements
- Country of origin: Taiwan
- Regulatory approvals: FCC, CE, RoHS
What's in the Package
- Prophecy 4x1 HDMI Quad-Viewer and Seamless Switcher
- Power adapter
- IR remote control
- User's manual
Warranty & Support
- Limited One-Year Warranty and Lifetime Product Support
More Information

| | |
| --- | --- |
| SKU | PRO-QuadView |
| Max Resolution/Refresh Rate | 1080p@60Hz |
| Input Type | HDMI |
| output type | HDMI |
| Compliance | HDMI 1.3, HDCP 1.4 |
Features & Specifications
- 4x HDMI inputs and 1x HDMI output
- Input resolution: 480i/480p/576i/576p/720p/1080i/1080p
- Output resolution: 720p @60Hz & 1080p @60Hz
- HDCP 1.4 compliant
- Video bandwidth: 6.75Gbps
- 5 Display Modes: One-View, Dual-View (left & right), Quad View, Quad-View Cycled, Quad-View H
- Supports seamless switching in One-View Mode
- Supports audio extraction via stereo audio from selected HDMI input
- Supports audio switch function
- Supports IR remote, software and push button control
- Firmware upgradable to support new features and technological advancements
- Country of origin: Taiwan
- Regulatory approvals: FCC, CE, RoHS