Prophecy 4K 2x2 Video Wall Processor (PRO-VideoWall)
gofanco Prophecy 4K HDMI 2x2 Video Wall Controller & Processor – Up to 4K/60Hz 4:4:4 Input, HDMI or mDP 1.2 Input, Bezel Correction, Fanless, Supports 2x2, 1x3, 3x1, 1x4, 4x1, 3x3, 4x4), TAA Compliant
Buy 5 for

$511.49

each and save

7

%
Buy 10 for

$500.49

each and save

9

%
Buy 20 for

$483.99

each and save

12

%
The Video Wall Controller gives you the power to manage on-screen content and make various configurations effortlessly. The 2x2 Video Wall Controller will allow you to display attractive, crisp, high-definition images and videos.
The Video Wall Controller is an excellent digital signage solution for enhancing marketing, decorative, or informational content in numerous settings. It is conventionally used in bars, restaurants, airports, malls, hotels, subways, conference rooms, and so much more!
QUAD-SCREEN PROCESSING – Create a 2x2 video wall from either an HDMI or DisplayPort source.  Other supported modes: 1x1, 2x2, 1x3, 3x1, 1x4, 4x1
INPUT SIGNAL – Supports HDMI and DisplayPort input resolutions from 640x480 to 4K/60Hz YUV 4:4:4. Compliant with HDMI 2.0a and DisplayPort 1.2a.  HDCP compliant
OUTPUT SIGNAL – Supports HDMI output resolutions from 640x480 to 1920x1200 and 1080p
ADVANCED FEATURES – Fanless, built-in bezel correction, image synchronization, multi-level cascading with no tearing. Easily resize, position, and zoom with each output; user-friendly selectable output settings; image parameters and layouts can be saved via flash memory or computer; firmware upgradable
MADE IN TAIWAN with HIGH QUALITY COMPONENTS – FCC, CE & RoHS compliant. Surface mountable metal enclosure with ESD & Surge protection to prevent malfunction or breakdown. Our products are backed with a 1-year limited warranty and experienced tech support team in Silicon Valley. Contact us at here if you have any questions or concerns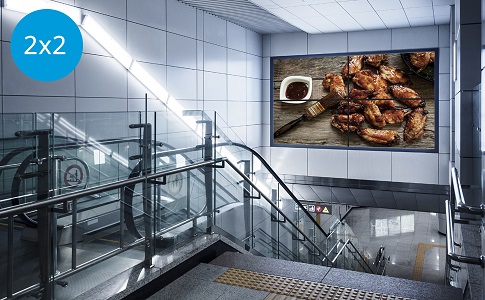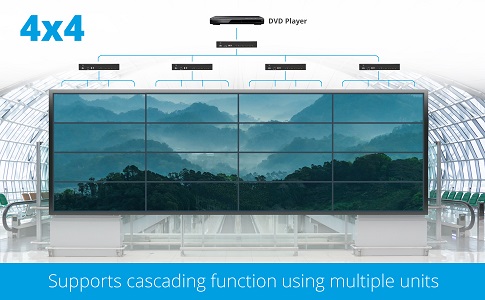 Features & Specifications
- Four HDMI outputs up to 1920x1200 for each display
- Supports HDMI and Mini DisplayPort input up to 4K/60Hz YUV 4:4:4, Interlaced or Progressive
- HDCP 2.2 compliant
- HDMI 2.0a & DisplayPort 1.2a supported
- Image parameters and layouts are automatically saved in the flash memory and recalled
- Several image parameters and layouts can be saved in computers and recalled
- Firmware upgradable for new features and technology enhancements
- Controlled via USB, push buttons, Ethernet, IR remote control and cloud control
- Built-in bezel correction
- Image synchronization to minimize tearing with fast moving objects
- Resize, position, zoom for each HDMI video output
- User-selectable output settings, up to 1920x1200
- Shortcut remote control buttons to switch between 1x1, 2x2, 1x3, and 1x4 rotation modes
- Supports independent input rotation at the resolution up to 1080p
- 4K/60Hz YUV 4:4:4 can be divided and displayed onto four 1080p60 TVs (2x2 layout only)
- Supports individual propagation delay on each display to have the best visual perception
- Housing: Metal, surface mountable
- Country of origin: Taiwan
- Regulatory approvals: FCC, CE, RoHS
What's in the Package
- Prophecy 4K 1x4 Video Wall
- Power adapter
- Surface mount accessories
- IR remote
- Software CD
- User's guide
Warranty & Support
- Limited One-Year Warranty and Lifetime Product Support
More Information

| | |
| --- | --- |
| SKU | PRO-VideoWall |
| Max Resolution/Refresh Rate | 4K@60Hz |
| Input Type | HDMI, Mini DisplayPort |
| output type | HDMI |
| Compliance | HDMI 2.0, HDCP 2.2 |
Customer Questions
If I have four 4k tv's can this product have one picture or video on all 4 displays as one big picture or video?
Yes, this is exactly what our Video Wall processor can do.
General & Standards

Features

- Four HDMI outputs resolutions up to 1920x1200 (requires 4K input) for each display 

- Supports HDMI and Mini DisplayPort input up to 4K/60Hz YUV 4:4:4, Interlaced or Progressive

- HDCP 2.2 compliant 

- HDMI 2.0a & Mini DisplayPort 1.2a supported

- Image parameters and layouts are automatically saved in the flash memory and recalled 

- Several image parameters and layouts can be saved in computers and recalled 

- Firmware upgradable for new features and technology enhancements 

- Controlled via USB, push buttons, Ethernet, IR remote control and cloud control 

- Built-in bezel correction to correct for any bezel space between displays

- Image synchronization to minimize tearing with fast moving objects 

- Resize, position, zoom for each HDMI video output 

- User-selectable output settings, up to 1920x1200 

- Shortcut remote control buttons to switch between 1x1, 2x2, 1x3, and 1x4 rotation modes 

- Supports independent input rotation at the resolution up to 1080p 

- 4K/60Hz YUV 4:4:4 can be divided and displayed onto four 1080p60 TVs (2x2 layout only)

- Supports individual propagation delay on each display to have the best visual perception 

- Housing: Metal, surface mountable 

- Country of origin: Taiwan 

- Regulatory approvals: FCC, CE, RoHS 

Warranty Information

Warranty

Limited One-Year Warranty and Lifetime Product Support

Product Measurements

Dimensions (W x H x D)

11.4 ″(L)x 7.0 ″(W)x 1.7 ″(H)

Weight

3.2 lbs

Housing Material

Metal

Environmental Conditions

Operating Temperature

32° to 104° F (10° to 40° C)

Storage Temperature

-4° to 158° F (-10° to 60° C)

Relative Humidity

20% ~ 90% (operating)

Certifications

FCC, CE, RoHS

Country of origin

Taiwan