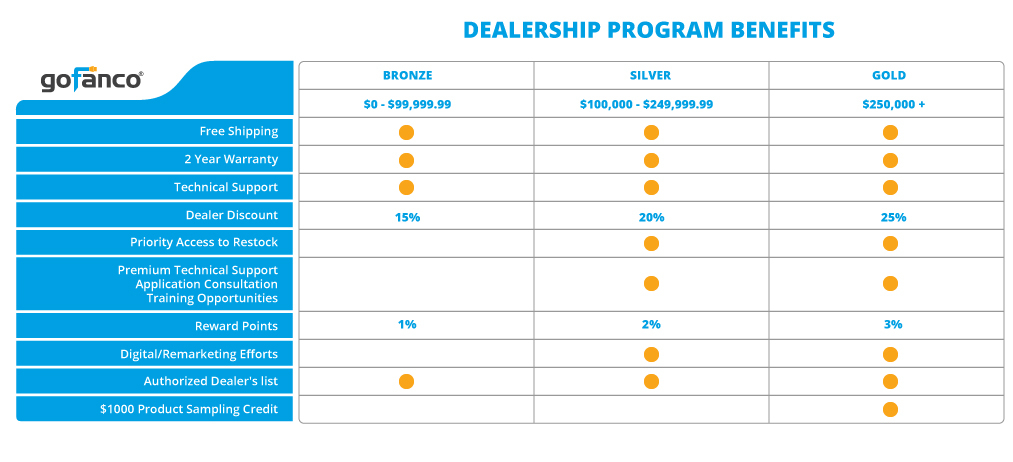 Gofanco Dealership Guide

As an authorized dealer, you can sell our Gofanco IT solution products both online and in retail. Our program offers different tier levels, including BRONZE, SILVER, GOLD, with varying benefits based on your sales performance.
If you are a top performing dealer selling more than $250,000 annually, you will be considered for our exclusive Gold tier. As a Gold tier dealer, you will receive all of the following benefits:
Authorized Partnership

: You'll be prominently featured on our website as an authorized partnership, which will help you gain more exposure and credibility.


Restock Priority

: You'll have priority access to restocking our products, ensuring that you never run out of inventory.

Digital & Remarketing Efforts

: We will dedicate a budget towards promoting your brand awareness as a gofanco dealer, ensuring that your business continues to grow.

Dealer Discount

: You'll receive a special discounted rate on all gofanco products based on your historical revenue.

Reward Points

: (100 Reward Points = $1.00 store credit) Based on the tier level you qualify for, you may receive a reward of 1%, 2%, or 3% on all gofanco purchases, which can further boost your sales earnings. The accumulated reward points can be redeemed as store credit during checkout or as a cash check upon request. For inquiries regarding cash check redemption, kindly reach out to sales@gofanco.com


Free Shipping

: You'll receive free shipping on all gofanco products, which will help you save money and offer competitive pricing to your customers. 

2 Year Warranty

: You'll have access to a 2-year warranty on all gofanco products, ensuring you and your customers peace of mind.

Premium Technical Support and Consultation

: You'll receive premium technical support and consultation for IT solution applications in residential and commercial environments, ensuring that you're equipped with the knowledge and expertise to offer the best solutions to your customers.

$1000 Credit for Sampling

: You'll receive a $1000 credit annually for sampling gofanco products, which will help you showcase our products to potential customers.

All tiers of our dealership program are eligible for free shipping and a 2-year warranty on all gofanco products. The dealer discount and reward points are subject to modification, contingent upon the dealer's tier levels and purchasing activity. Any cancellation or return of purchase orders will lead to the forfeiture of accrued reward points and an adjustment in the dealer's tier level. It is advised that dealers monitor their purchase volumes and avoid cancellations or returns to maintain their current tier status and associated benefits. To become a gofanco dealer, simply contact us at sales@gofanco.com. We accept resale certificates and apply sales tax exemption on your dealer account. We are excited to work with you and help you grow your business with our wide range of IT solution products.
Please register with a new email address if you are an existing Gofanco member and wish to apply as a dealer.